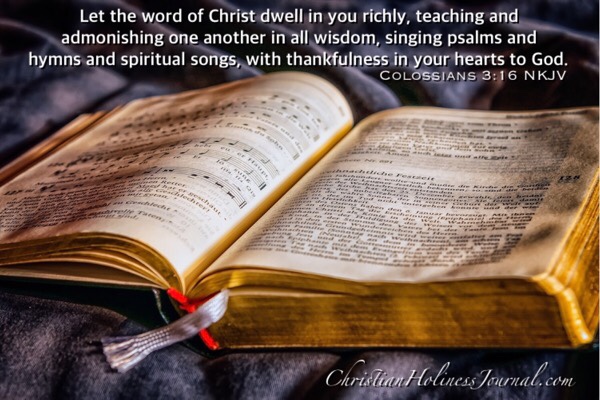 As my body grows weaker with cancer, I am compelled to write less. I have determined, though, that there are a few topics I must address while I am able. While listening to a podcast a few days ago, my attention was turned to a verse that the podcaster read in passing: Colossians 3:16. Here it is from the New King James Version of the Bible…
Let the word of Christ dwell in you richly, teaching and admonishing one another in all wisdom, singing psalms and hymns and spiritual songs, with thankfulness in your hearts to God.
I wanted to be sure that I wasn't imparting my bias into the scripture, so I investigated further. To me, this verse reinforces the singing of hymns and the use of hymnals in the church. But, do any scholars agree?
Dr. Michael Heiser recently studied Colossians in his Naked Bible Podcast. Heiser is an evangelical Christian theologian who has a unique knack for stripping away (hence the name of his program) 21st century bias and examining the Bible from the viewpoint of its writers and original readers. He holds an M.A. and Ph.D. in Hebrew Bible and Ancient Semitic Languages.
Sure enough, Heiser noted that Paul's emphasis on teaching through songs leads him to believe that our Christian hymns do a better job of teaching than most (but certainly not all) modern praise and worship songs.
Modern worship music, while long on creating a buzz that stirs the emotions, often lacks substance and rarely teaches the Word of Christ.
Paul, Himself used hymns to teach. His letters, written 20-40 years after the Resurrection, quote hymns that First Century Christians sang in worship, hymns that would have been familiar to his readers. One such hymn is found in Colossians 1:15-16 (NKJV)
He is the image of the invisible God,
the firstborn of all creation.
For by him all things were created,
in heaven and on earth,
visible and invisible,
whether thrones or dominions
or rulers or authorities—
all things were created through him and for him.
That is a hymn that teaches substance.
Another hymn that Paul quotes is found in Philippians 2:6-11. It is commonly called the Christ Hymn:
Who, though he was in the form of God,
did not count equality with God
a thing to be grasped,
but emptied himself,
by taking the form of a servant,
being born in the likeness of men.
And being found in human form,
he humbled himself by becoming obedient
to the point of death,
even death on a cross.
Therefore God has highly exalted him
and bestowed on him the name
that is above every name,
so that at the name of Jesus
every knee should bow,
in heaven and on earth
and under the earth,
and every tongue confess
that Jesus Christ is Lord,
to three glory of God the Father.
Therein, is the Gospel.
Moses, too, taught by song. Most of Exodus 15 is called the Song of Moses. It recounts the deliverance of Israel from bondage in Egypt and heaps praise on God for his mercy and might. Moses knew a lot about learning. It is he who recommends that the Law be written and worn around our heads. Solomon suggests we copy the Law and wear it around our necks. Wouldn't we be well-advised, then, to learn the Words of Christ through song? Wouldn't those songs be easier to learn if we could follow along with the music, perhaps in a book?
Heiser points out that much of today's praise and worship music fails to teach the Words of Christ. It serves only to edify the worshipper, make one feel good, or create a "buzz." While those may not be bad things, they are not the reason we sing, not according to Paul's letter to the Colossians.
I have been in worship services that do nothing less than glorify those in the audience. One service I attended even blasted Lynyrd Sky through the sound system while serving biscuits, gravy, sausage and eggs before church. Making ourselves the center of worship is nothing less than idolatry.
What's worse, the worship team is sometimes the focus of the service. Though it may be unintentional, it can sometimes be the performers who receive the glory and the praise. They certainly get the applause.
Do the songs we sing at church teach the Words of Christ? Do they glorify God? Is the focus of your worship well-placed? According to the Word of God, our songs should teach the Words of Christ,.
It is something to consider.