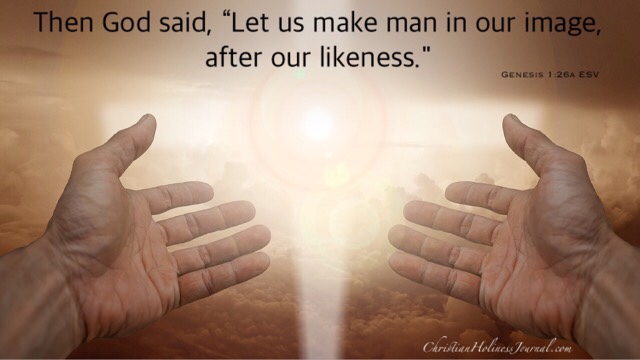 Genesis tells us that God created humans (male and female) in His image and likeness. The words "image" and "likeness" are poetic parallels conferring the same meaning: we were created to be imagers of God.
In fact, a thorough reading of the Creation Story tells us that we humans had a unique and short-lived relationship with God and the rest of His creation. We walked with God, talked with Him and – indeed – reigned with Him over the rest of His creation. Many Hebrew scholars even go so far to propose that God's spiritual children, (angels and other heavenly creatures) and God's physical children (the first man and first woman) shared God's edenic dwelling with Him.
It was God's divine will in His wisdom that humankind co-rule with Him on this world. Humans, decided to, instead, trust in their own will. As a result of that rebellion, mankind was barred from God's earthly dwelling place and found unworthy to rule with Him. But God didn't give up on humankind. Throughout history, He tested us to prove one worthy.
The Bible speaks of many whose faith was tested, just like Adam and Eve. Yet no human was found worthy to co-rule the earth with him.
God did find many who came close to such worthiness. Enoch walked with God until, one day he walked away with God. Noah was put to the test and passed it; he relied on God's wisdom and was chosen to help save mankind. In the end, though, he fell back on human wisdom.
Abraham and Sarah were found worthy to be put to the test. They failed, though and did not have the faith to wait on God's timing. God had promised them innumerable descendants. In a tale that reminds us of the creation story, Abraham trusted the voice of his wife more than he trusted promise of God. Later, Abraham passed the test by yielding to God's voice on the mountaintop. Still, he was not worthy to co-rule with God in His creation.
Moses was perhaps found to be the most worthy among humans. He met God on the mountain and received His instructions. Being exposed to the glory of God changed him so much that he was forced to cover his face. His outstretched arm by which he parted the waters was called the arm of God. Still, his faith faltered and he would not co-rule on earth with God.
David was called a man after God's own heart, but he often mistrusted God. Solomon passes the test and asks for God's wisdom over money and power. At the same time, though, he seeks sexual pleasure and pride. He, too, was not worthy to co-rule God's creation.
In the midst of exile, Daniel is shown a peek into the future and sees a human ascending to heaven where he will sit on a throne next to the Ancient of Days, God the Father. That man is Jesus.
Because of a sinless life on earth… Because He – the Son of God made human – surrendered his life to His Father in the ultimate test of faith… because He rose from the dead and ascended into heaven… we can once again be imagers of God.
If we trust in God's wisdom instead of man's, and if we die to our own will and instead live in the will of God as found in His Holy Word, then we too will reflect His image. We will be a part of The Kingdom of God ruled by Jesus Christ on earth.
For myself, I could never pass the test. But Christ who lives through me gives me strength and faith to take the test and endure. He lives in me eternally. I surrender to him constantly. He passed the test for me.
——
The book of Hebrews tells us that it is our faith that saves us, not our actions. In fact, it was by faith that Abraham was made the founder of an innumerable nation. No matter what we do, we can never be found worthy to co-rule with God. That is why he sent His Son to be born as a man, to live and grow and learn and experience life as a frail human who is tempted and tried and everyday dies. It is only because we trust in His wisdom and His sacrifice that we may live as part of His Kingdom.
God tested each of these people and recorded their stories for eternity so that we would see that no one is worthy but His Son Jesus Christ.
What part will we play in His Kingdom? Only God knows, but what part does a child of God play, anyway? We are God's adopted children, brothers and sisters of King Jesus.